TrailPhotos - Home
---
TrailPhotos takes you on photo tours of northern California trails, parks, and wilderness areas, in vivid color. We aim to provide captivating trail scenes, as photographed over more than a decade by MapSnaps. Photo locations pinpointed on topo maps are included, with brief trail descriptions - enough detail to overview it, but not so much to over-do it.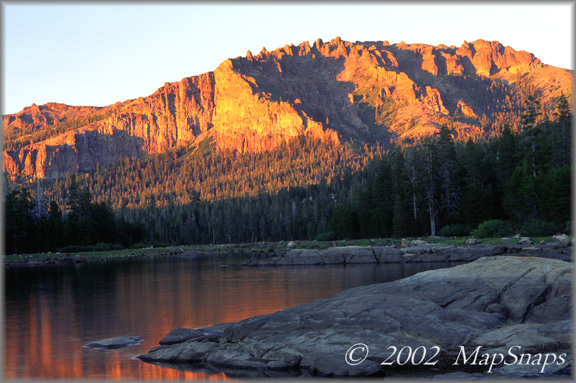 Sunset on Silver Lake shores off CA Highway 88, from Hidden Lake Loop Trail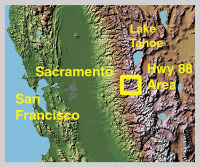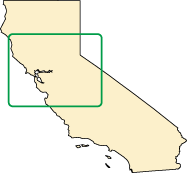 ---
TrailPhoto Guides include descriptions of trail routes with area maps, color photos, and topo maps with trail routes that include a detailed location marked for each photograph.
-
Start Exploring:
View a free, complete TrailPhoto Guide Sample at Scribd.com. This sample includes a Guide to the Eagle Lake Trail in the Lake Tahoe Region, including photos along the trail and their locations on a printable topographic map (Other TrailPhoto Guides are also available from MapSnaps at Scribd.com).
---
TrailPhoto Scenes - These emphasize the photography from TrailPhoto Guides trails, and are also available (including a free, complete trail example for Eagle Lake Trail) from the MapSnaps page at Scribd.com. TrailPhoto Scenes include the same directions to trailheads and maps as the TrailPhoto Guides, but instead of detailed trail descriptions, they include full-page size TrailPhotos in framed black background for each of the TrailPhotos in the Guides. These are meant as a companion to the TrailPhoto Guides, for those who prefer larger size, better resolution images of the TrailPhotos.
---
TrailPhoto Gallery - Selected sample photos from TrailPhoto Guides trails can be viewed in Extra Large size on this TrailPhotos.com website, through links from thumbnail photos on the TrailPhoto Gallery page. The larger size really brings them to life - take a look!
---
TrailPhoto Vignettes are compact photo and map tours of highly scenic natural areas in northern California that are also available, but without any detailed trail guides.
---

TrailPhotos Index Site Map for all TrailPhotos areas and maps.
---
Home | What's New | FAQ | User Notes | About Us/Contact
© 2000-2010 MapSnaps All rights reserved