TrailPhoto Vignettes - Photograph Samples
---
QUICK LINK : Map Samples for TrailPhoto Vignettes (new browser window)
---
The first two sets of digital TrailPhoto Vignettes are now available. The files each include vignettes of two natural areas, with one pair in the vicinity of Lake Tahoe in northern California, and one pair in the eastern Sierra mountains. The Lake Tahoe Vignette locations are not right on the shores of Lake Tahoe, but are located within a 30 minute to one hour drive away. Small size, lower resolution samples of the Vignette photographs are shown below. These photographs were taken with a high quality, large-format bellows camera (Vignette photographs ordered in the downloads are larger size than shown here in these Samples' thumbnail photos):
1. Donner Lake and Faith Valley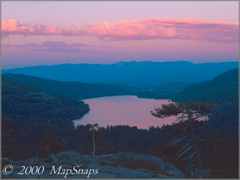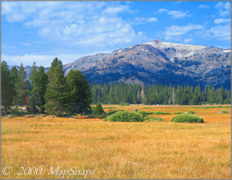 Donner Lake Faith Valley
2. Sinnamon Meadow and Wrights Lake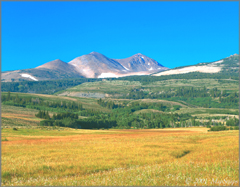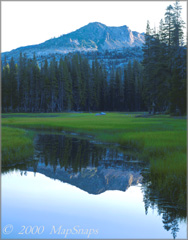 Sinnamon Meadow Wrights Lake
These are the photographs in the TrailPhoto Vignettes files that are now available. These Vignette locations are in the vicinity of Lake Tahoe and the eastern Sierra mountains of California:
Each file includes 2 natural areas in northern California, in the vicinity of Lake Tahoe and in the eastern Sierra mountains.
The 2 Vignette files now available are :
Donner Lake, off Interstate 80, plus Faith Valley, off Highway 88 (Tahoe area);

Sinnamon Valley, off Highway 395, plus Wrights Lake, off Highway 50 (eastern Sierra area and Tahoe area).
Each of the Vignette locations includes :
A landscape photograph digital file that can be viewed on your computer monitor and printed out from your computer. The printed photograph will cover an 8 1/2" x 11" sheet of paper, with a 1/2" - 1" border.

A set of maps showing the Vignette location, and a terrain map depiction of the area, including a description of the area and directions to the site.

A topographic map file close-up of the area where the photograph was taken, showing its specific location, the direction of the photograph view, and overview information on nearby trails and campgrounds.
---
The color balance of these photographs on this website page may vary from browser to browser and computer to computer when viewed over the internet. The files are adjusted to have the correct color balance when using the Windows sRGB color space profile. The examples here just give a quick idea of these photographic views, but are small, lower quality versions of the actual complete files.
Additional examples of the look and feel of the map and descriptive information content included in the files that come with each TrailPhoto Vignette can be seen by clicking this Vignette map samples link (opens in a new browser window).
---
How to Acquire TrailPhoto Vignettes
For further information about ordering, use of the files, and the Scribd.com order processing site, see How to Acquire on this website.
---

TrailPhotos Index Site Map for all TrailPhotos areas and maps.
---
Home | What's New | FAQ | User Notes | About Us/Contact
© 2000-2010 MapSnaps All rights reserved