TrailPhoto Guides and TrailPhoto Scenes Regions - Parks & Trails Overview
---
QUICK LINKS - Start exploring trails now !
Photos: Lake Tahoe TrailPhoto Guide Trails
Photos: Highway 88 to N. Yosemite TrailPhoto Guide Trails
Photos: East Bay TrailPhoto Guide Trails
---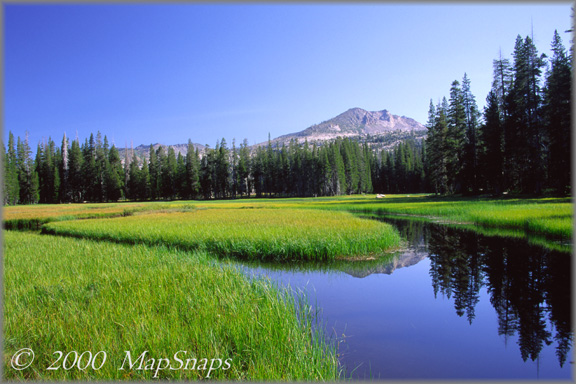 A backwater channel delivers a summertime sanctuary in the Wrights Lake vicinity near Lake Tahoe
-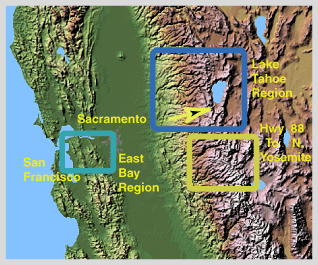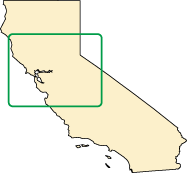 TrailPhoto Regions Terrain Map California Terrain Map Location
The yellow arrow on the Terrain Map above shows the approximate location and viewing direction of the photograph displayed above. The photo was taken near Wrights Lake off US Highway 50, just west of Lake Tahoe in California.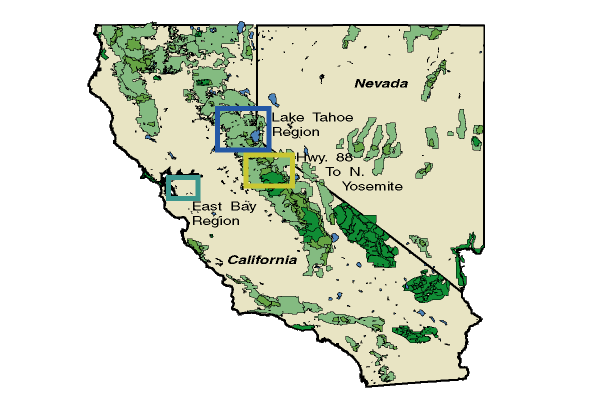 TrailPhoto Guides and TrailPhoto Scenes Coverage Area - Overview Map
---
TrailPhoto Guides are detailed descriptions of trail routes with area maps, topographic maps with highlighted trails, and photographs. These Guides have brief trail descriptions similar to those found in many guidebooks, but have the added features of color photo highlights of scenes along the trails, and matching color maps to show directions to the trailhead, the trail routes, and trail photo locations on topographic trail maps.
There are currently three main geographic regions covered for these park lands and trails on this website, all in Northern California and Nevada, for which TrailPhoto Guides and TrailPhoto Scenes were created.
The TrailPhoto Guides web pages that describe these regions further have color coded borders on the left side and near the top of their pages, tied to the three main regions covered. The general website pages have medium-blue color frame borders, as on this page. The different Regions each have website page border colors that match their Regions' rectangle colors on the map above, as shown on these following Overview pages, for easier reference:
* Lake Tahoe Region : Dark Blue
* Highway 88 to North boundary of Yosemite Region : Olive
* East Bay Region : Teal green
Or, to jump directly to a TrailPhoto Guide example, view a free, complete TrailPhoto Guide Sample at Scribd.com.
---
TrailPhoto Scenes include the same directions to trailheads and maps as the TrailPhoto Guides, but instead of detailed trail descriptions, they include full-page size TrailPhotos framed in black background for each of the TrailPhotos in the Guides. These are meant as a companion to the TrailPhoto Guides, for those who prefer larger size, better resolution images of the TrailPhotos. They are also available, including a full free sample, and for acquisition, through this link at: Scribd.com.
---
See all the TrailPhoto Guides and TrailPhoto Scenes currently available with free preview pages and for purchase from MapSnaps at Scribd.com.
To see thumbnail TrailPhotos for each TrailPhoto Guide trail in the three regions, completed and in development, click on the underlined QUICK LINKS at the top of this page.
---

TrailPhotos Index Site Map for all TrailPhotos areas and maps.
---
Home | What's New | FAQ | User Notes | About Us/Contact
© 2000-2010 MapSnaps All rights reserved