Tahoe TrailPhoto Guides - Mt. Tallac Trail
---
Mt. Tallac is the crown jewel of the Tahoe trail experience - but you earn the view
Desolation Wilderness (West of Lake Tahoe Area)
(Also see this photo at: Flickr)
---
* Mt. Tallac trail. This TrailPhoto Guide is now available
* Roundtrip trail distance = 8.9 miles. Difficulty = Very Strenuous. Scenic value = 10 / 10.
* Guide contains 10 color photos, plus maps. Acquire this Guide at Scribd.com.
---
There's usually one destination that stands out above the others in a magnet area for outdoor recreation such as Lake Tahoe. Mt. Tallac qualifies on this score, known for its height and dominance as it looms above the lake, and its ever expansive views. A bonus of this trail is that there are a number of interesting diversions along the way, from small lakes, to boulder fields, and meadows high on the approaching peaks. It's a tough climb, and best made when the snow fields of late Spring have receded. Reaching the top though, you'll feel you're scraping the sky in the land of big blue.
---
Approximate Location of TrailPhoto above, on Mt. Tallac Trail:
---
A Few More Photo Samples from this Trail:
Lake Tahoe isn't the only game in town - here you pass Fallen Leaf Lake as well
.
.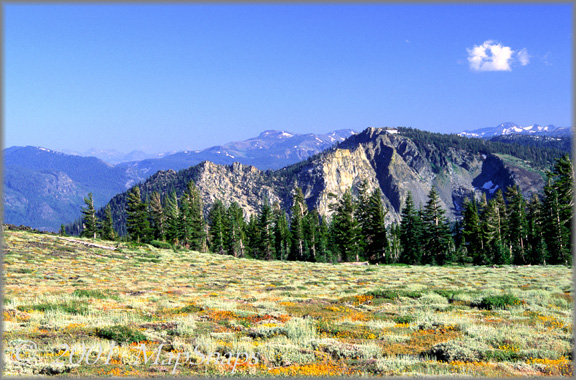 Far above the lakeshore, a surprising carpet of wildflowers in a flat below Mt. Tallac
.-
To preview or acquire this TrailPhoto Guide, complete with all the color photos and their mapped locations, area and topo maps, directions, and the trail guide text, please visit Scribd.com. (This TrailPhoto Guide is now available at the Scribd website to preview, or acquire it for $1.50).
Or, view a free, complete TrailPhoto Guide sample at Scribd.com. This sample includes a TrailPhoto Guide to the Eagle Lake trail in the Lake Tahloe Region (Other TrailPhoto Guides are also available with free preview pages and for purchase from MapSnaps at Scribd.com).
---
Back to Lake Tahoe TrailPhoto Guides Thumbnail Photo List and Map
---

TrailPhotos Index Site Map for all TrailPhotos areas and maps.
---
Home | What's New | FAQ | User Notes | About Us/Contact
© 2000-2010 MapSnaps All rights reserved