East Bay TrailPhoto Guides - Kovar / Ridge Top Trails
---
Shell Ridge, unique itself, is also an impressive gateway to Mt. Diablo (background)
Shell Ridge Open Space, Walnut Creek
(Also see this photo at: Flickr)
---
* Kovar / Ridge Top trail loop. This TrailPhoto Guide is now available
* Roundtrip trail distance = 4.5 miles. Difficulty = Strenuous. Scenic value = 10 / 10.
* Guide contains 11 color photos, plus maps. Acquire this Guide at Scribd.com.
---
Kovar and Ridge Top trails are part of Shell Ridge Open Space, the low key gem tucked away in Walnut Creek adjacent to Mt. Diablo State Park. This trail guide provides a nice loop route tour of the heart of Shell Ridge, offering ridge top vistas and easy paths through the valley floor. Kovar and Ridge Top trails pack in a slew of appealing rolling ridges in a short span, which makes for some tight and winding trail cuts amongst the peaks. As a bonus, there are many clear views of the nearby dominant feature, Mt. Diablo.
---
Approximate Location of TrailPhoto above, on Ridge Top Trail:
-
-
---
A Few More Photo Samples from this Trail: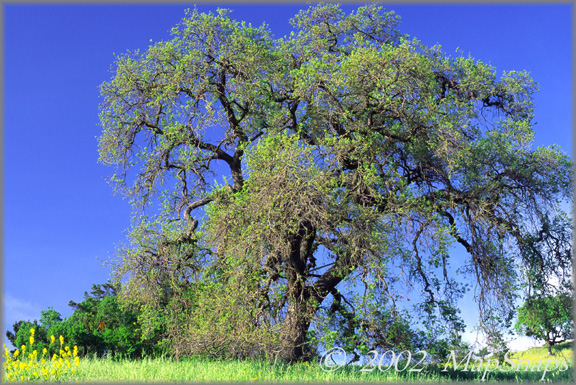 Near the trail's start, a large tree stands as a lone sentinel on the verdant hillside
.
.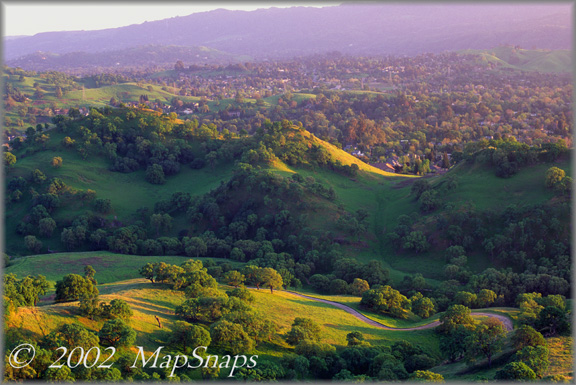 Late afternoon sun dapples the valley below Shell Ridge, tucked in near suburbia
.
To preview or acquire this TrailPhoto Guide, complete with all the color photos and their mapped locations, area and topo maps, directions, and the trail guide text, please visit Scribd.com. (This TrailPhoto Guide is now available at the Scribd website to preview, or acquire for $1.50).
Or, view a free, complete TrailPhoto Guide Sample at Scribd.com first. This sample includes a TrailPhoto Guide to the Eagle Lake Trail in the Lake Tahoe Region (Other TrailPhoto Guides are also available with free preview pages and for purchase from MapSnaps at Scribd.com).
---
Back to East Bay TrailPhoto Guides Thumbnail Photo List and Map
---

TrailPhotos Index Site Map for all TrailPhotos areas and maps.
---
Home | What's New | FAQ | User Notes | About Us/Contact
© 2000-2010 MapSnaps All rights reserved