Hwy. 88 to N. Yosemite TrailPhoto Guides - Twin Lakes to Barney Lake Trail
---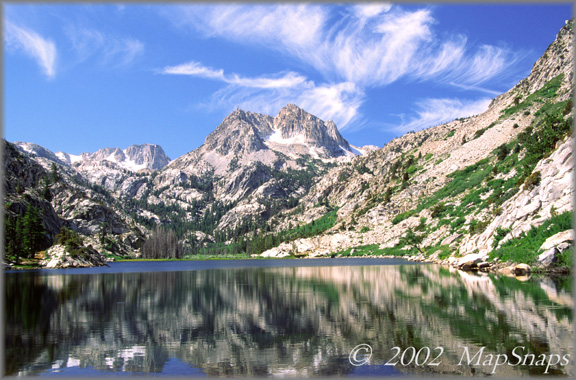 Barney Lake Trail is no doubt among the very best trails in the TrailPhoto Guides
Toiyabe National Forest / Hoover Wilderness (Off Highway 395 Area)
(Also see this photo at: Flickr)
---
* Twin Lakes to Barney Lake Trail. This TrailPhoto Guide is now available
* Roundtrip trail distance = 7.7 miles. Difficulty = Moderate. Scenic value = 10 / 10.
* Guide contains 11 color photos, plus maps. Acquire this Guide at Scribd.com.
---
You can't do much better than the Barney Lake trail if you're looking for an ideal day trip. The terrain changes from sagebrush filled, dry western-style valleys, to patches of aspen forest, to wet grassy meadows, and on up to picture perfect alpine lakes. Hovering over it all are the bold and craggy peaks of the Hoover Wilderness. Starting from the civilized resort outpost on Twin Lakes in the eastern Sierra, this trail is the first section of a continuing leg that leads up to the equally scenic Peeler lake, and ultimately the backcountry of Yosemite National Park via Kerrick Meadow. But the trip to Barney Lake is a complete trek in itself, and contains scenic rewards aplenty.
---
Approximate Location of TrailPhoto above, on Barney Lake Trail:
-
-
---
A Few More Photo Samples from this Trail: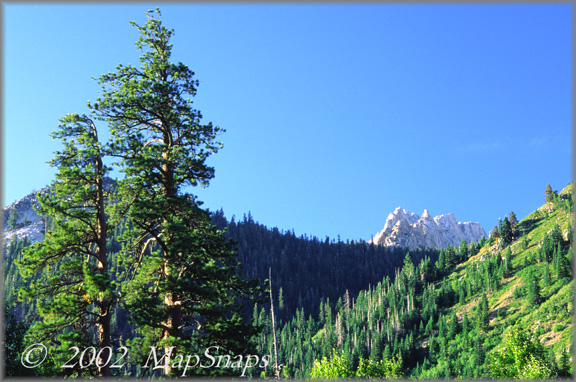 The rich morning light deepens the hillside colors and gives a hint of scenes to come
.
.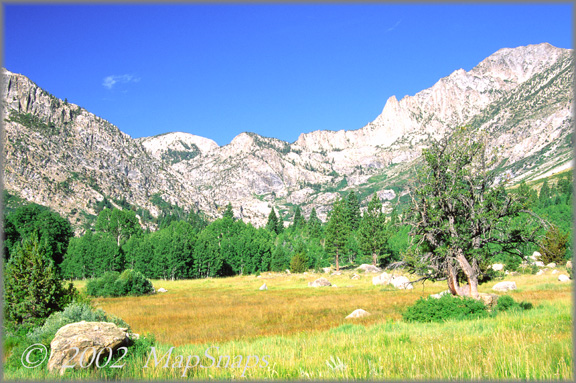 A moist meadow within dry terrain country brings rich contrast to the valley floor
.
To preview or acquire this TrailPhoto Guide, complete with all the color photos and their mapped locations, area and topo maps, directions, and the trail guide text, please visit Scribd.com. (This TrailPhoto Guide is now available at the Scribd website to preview, or acquire for $1.50).
Or, view a free, complete TrailPhoto Guide Sample at Scribd.com first. This sample includes a TrailPhoto Guide to the Eagle Lake Trail in the Lake Tahoe Region (Other TrailPhoto Guides are also available with free preview pages and for purchase from MapSnaps at Scribd.com).
---
Back to Highway 88 to Yosemite TrailPhoto Guides Thumbnail Photo List and Map
---

TrailPhotos Index Site Map for all TrailPhotos areas and maps.
---
Home | What's New | FAQ | User Notes | About Us/Contact
© 2000-2010 MapSnaps All rights reserved