Tahoe TrailPhoto Guides - PCT North from I-80
---
The expansive meadow near this trail's end has the feel of an old Western movie
Tahoe National Forest (North of Lake Tahoe Area)
(Also see this photo at: Flickr)
---
* Pacific Crest Trail North from I-80. This TrailPhoto Guide is now available
* Roundtrip trail distance = 8.9 miles. Difficulty = Strenuous. Scenic value = 9 / 10.
* Guide contains 10 color photos, plus maps. Acquire this Guide at Scribd.com.
---
The Pacific Crest Trail up beyond Castle Peak and into massive Round Valley brings you to some splendid mountain recreation lands, starting oddly enough from a busy interstate highway rest stop. Castle Peak stands out for miles around, easily spotted from the highway below with its ramparts-like formation, and becoming the landmark passed on the final trail descent into Round Valley. A warming hut was built by the Sierra Club in this valley, shelter in summer and for wintertime cross country skiers. As with many large meadows surrounded by peaks, it makes for good views and lingering after a challenging climb up from the trailhead to reach the destination.
---
Approx. Location of TrailPhoto above, on PCT-North from I-80 Trail:
---
A Few More Photo Samples from this Trail:
Even in late summer, the Sierra grasses and brush begin to turn yellowish gold
.
.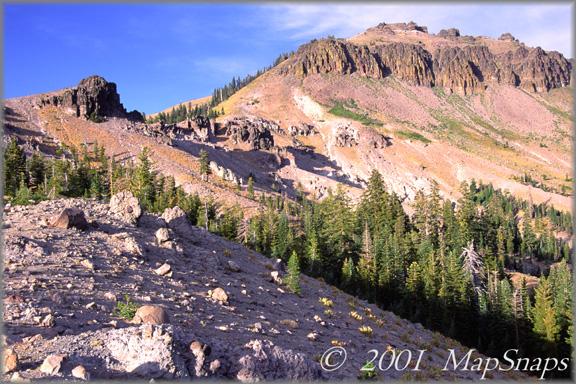 Castle Peak is the area's cap and seeming rock fortress, visible for miles around
.-
To preview or acquire this TrailPhoto Guide, complete with all the color photos and their mapped locations, area and topo maps, directions, and the trail guide text, please visit Scribd.com. (This TrailPhoto Guide is now available at the Scribd website to preview, or acquire it for $1.50).
Or, view a free, complete TrailPhoto Guide sample at Scribd.com. This sample includes a TrailPhoto Guide to the Eagle Lake trail in the Lake Tahloe Region (Other TrailPhoto Guides are also available with free preview pages and for purchase from MapSnaps at Scribd.com).
---
Back to Lake Tahoe TrailPhoto Guides Thumbnail Photo List and Map
---

TrailPhotos Index Site Map for all TrailPhotos areas and maps.
---
Home | What's New | FAQ | User Notes | About Us/Contact
© 2000-2010 MapSnaps All rights reserved