Tahoe TrailPhoto Guides - Echo Pass to Cagwin Lake Trail
---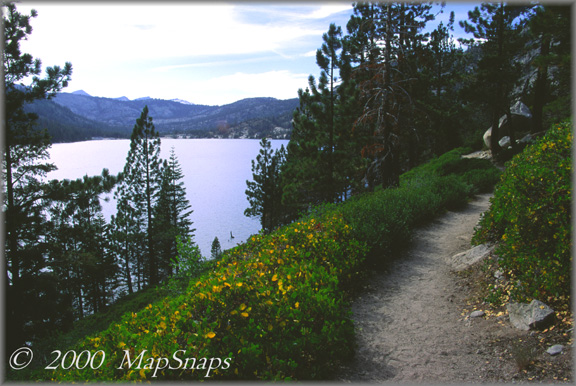 Another section of the Pacific Crest Trail traces the edge of Lower Echo Lake
Eldorado National Forest / Desolation Wilderness (South of Lake Tahoe Area)
(Also see this photo at: Flickr)
---
* Echo Lake Trail: Echo Pass to Cagwin Lake. This TrailPhoto Guide is now available
* Roundtrip trail distance = 8.1 miles. Difficulty = Easy. Scenic value = 9 / 10.
* Guide contains 10 color photos, plus maps. Acquire this Guide at Scribd.com.
---
Echo Pass is a main thoroughfare to South Lake Tahoe just off US Highway 50, and represents the gateway to the easily accessible Echo Lakes and Desolation Wilderness. This is a rather gentle trail, easier on the old cardiovascular than many of the other mountain trails. Adding to the attraction, there are several lakes along the way, and raw mountain peaks raising their rocky cliffs above it all. The trail can be taken on in various ways: a short jaunt just along Echo lakes gives a quick flavor of the area. Following this TrailPhoto Guide's trail pulls three more lakes into the trip. Or, the really ambitious can continue further northward into Desolation Wilderness along the Pacific Crest Trail.
---
Approximate Location of TrailPhoto above, on Echo Lake Trail:
-
---
A Few More Photo Samples from this Trail: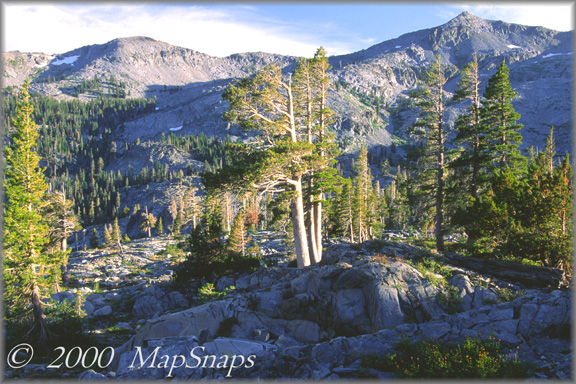 The area around Desolation Wilderness is filled with rocky shields and peaks
.
.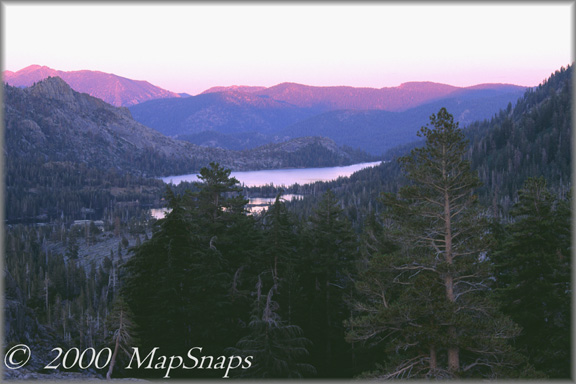 Echo Lakes beneath purple mountains at day's end, from Desolation Wilderness
-
To preview or acquire this TrailPhoto Guide, complete with all the color photos and their mapped locations, area and topo maps, directions, and the trail guide text, please visit Scribd.com. (This TrailPhoto Guide is now available at the Scribd website to preview, or acquire it for $1.50).
Or, view a free, complete TrailPhoto Guide sample at Scribd.com. This sample includes a TrailPhoto Guide to the Eagle Lake trail in the Lake Tahloe Region (Other TrailPhoto Guides are also available with free preview pages and for purchase from MapSnaps at Scribd.com).
---
Back to Lake Tahoe TrailPhoto Guides Thumbnail Photo List and Map
---

TrailPhotos Index Site Map for all TrailPhotos areas and maps.
---
Home | What's New | FAQ | User Notes | About Us/Contact
© 2000-2010 MapSnaps All rights reserved