Tahoe TrailPhoto Guides - Eagle Lake Trail
---
Eagle Lake and Eagle Falls are a quick, popular day hike from the Emerald Bay area
Emerald Bay State Park / Desolation Wilderness (West of Lake Tahoe Area)
(Also see this photo at: Flickr)
---
* Eagle Lake Trail. This trail's TrailPhoto Guide and TrailPhoto Scenes are now available
* Roundtrip trail distance = 2.1 miles. Difficulty = Easy. Scenic value = 9 / 10.
* Contains 11 color photos, plus maps. Free TrailPhoto Guide Sample - at Scribd.com
(This trail is also the free, complete TrailPhoto Scenes sample at Scribd.com)
---
One of the most popular and easy trails just off the main road circling Emerald Bay at Lake Tahoe, Eagle Lake Trail begins in the same location as the shorter and well known trip to Eagle Falls. Plenty of peaks ringing Lake Tahoe are visible along this trail, and in a short while you reach the destination at Eagle Lake. Less than two miles roundtrip, this trail is a nice way to spend a few hours away from road traffic on your Lake Tahoe vacation. However, parking is limited and there is a charge at the trailhead parking spaces, and peak times can be busy. But compared to many of the other trails that rise to the west off the shores of Lake Tahoe, this one brings quick rewards without tremendous effort.
---
Approximate Location of TrailPhoto above, on Eagle Lake Trail:
-
---
A Few More Photo Samples from this Trail:
Emerald Bay and Tahoe appear below the trail, as you climb up above Highway 50
.
.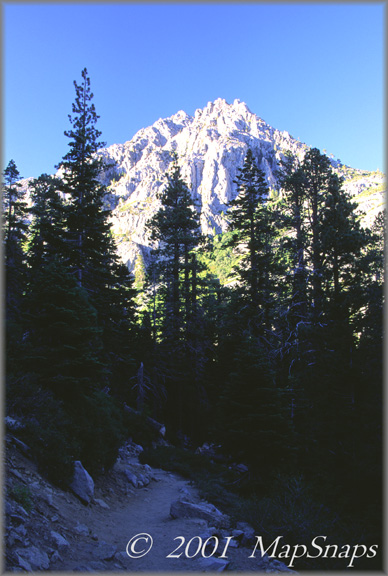 Early morning visits shroud the trail in shadow, while bright peaks shine
.
To preview or acquire this TrailPhoto Guide, complete with all the color photos and their mapped locations, area and topo maps, directions, and the trail guide text, please check out this Free TrailPhoto Guide sample for this trail.
Other TrailPhoto Guides are also available with free preview pages, and for purchase from MapSnaps at Scribd.com. This is also the link where you'll find the free complete TrailPhoto Scenes sample.
---
Back to Lake Tahoe TrailPhoto Guides Thumbnail Photo List and Map
---

TrailPhotos Index Site Map for all TrailPhotos areas and maps.
---
Home | What's New | FAQ | User Notes | About Us/Contact
© 2000-2010 MapSnaps All rights reserved