East Bay TrailPhoto Guides - Quarry / Seaview Trails
---
Looking northwest over Seaview Trail in Tilden Park, towards San Pablo Reservoir
East Bay Regional Park District
(Also see this photo at: Flickr)
---
* Quarry / Seaview trails. This trail's TrailPhoto Guide and TrailPhoto Scenes are now available
* Roundtrip trail distance = 3.5 miles. Difficulty = Moderate. Scenic value = 9 / 10.
* Contains 12 color photos, plus maps. Acquire this TrailPhoto Guide and/or Scenes from Scribd.com.
---
The Quarry / Seaview trail loop is one of many that criss-cross Tilden Park in Berkeley, taking advantage of the stunning views east and west of the ridge as part of the Skyline Trail. Some of the best views of the San Francisco Bay from the East Bay parks are found along the Seaview Trail, as are vistas towards several reservoirs in Contra Costa County. From this hub, other trails connect into the hilly slopes of Tilden and down across East Bay Municipal Utility District trails to the east. Tilden Park also has its more civilized attractions such as a golf course, botanical gardens, and the Steam Train, but the Seaview ridge trail is a definite don't-miss.
---
Approximate Location of TrailPhoto above, on Seaview Trail:
-
---
A Few More Photo Samples from this Trail: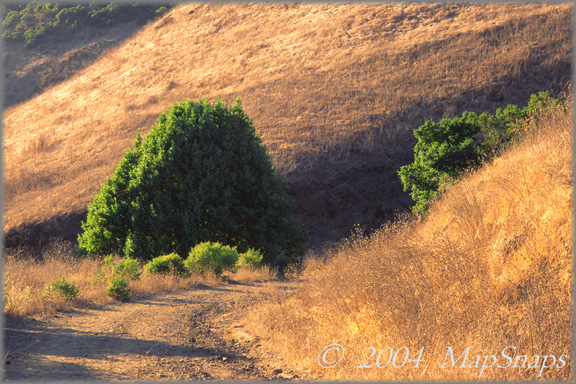 Climbing through the autumn hillsides towards the Seaview Trail in Tilden Park
.
.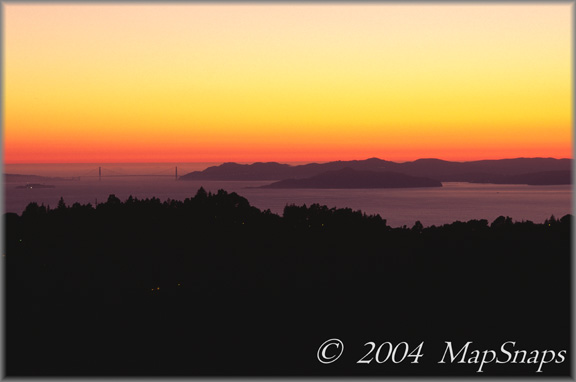 Classic views abound on the Berkeley Hills ridgetop, here towards the Golden Gate
.
To preview or acquire this TrailPhoto Guide, complete with all the color photos and their mapped locations, area and topo maps, directions, and the trail guide text, please visit Scribd.com. (This TrailPhoto Guide is now available at the Scribd website to preview, or acquire for $1.50).
Or, view a free, complete TrailPhoto Guide Sample at Scribd.com first. This sample includes a TrailPhoto Guide to the Eagle Lake Trail in the Lake Tahoe Region.
Other TrailPhoto Guides and TrailPhoto Scenes are also available with free preview pages and for purchase from MapSnaps at Scribd.com. This link includes a completed TrailPhoto Scenes for this trail.
---
Back to East Bay TrailPhoto Guides Thumbnail Photo List and Map
---

TrailPhotos Index Site Map for all TrailPhotos areas and maps.
---
Home | What's New | FAQ | User Notes | About Us/Contact
© 2000-2010 MapSnaps All rights reserved