East Bay TrailPhoto Guides - Oursan Trail
---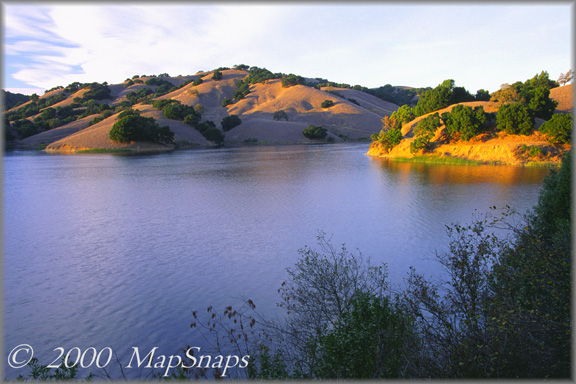 Briones Reservoir is completely encircled by trails - Oursan Trail here on the north
East Bay Municipal Utility District
(Also see this photo at: Flickr)
---
* Oursan Trail/Briones Reservoir N.E. This TrailPhoto Guide is now available
* Roundtrip trail distance = 9.3 miles. Difficulty = Easy. Scenic value = 9 / 10.
* Guide contains 10 color photos, plus maps. Acquire this Guide at Scribd.com.
---
Somewhat of a secret less known to the masses, Briones Reservoir is one of the more attractive lakeside trails in the Bay Area. Because it requires a permit from the East Bay Municipal Utility District to access this trail, there are generally fewer people here than at other locations that require no permit. But the trail curves along the water, occasionally peeling away into mildly sloped, oak lined paths up above the lakeside. This portion of the trail offers but a sample of the Briones Reservoir experience - trails ring the entire circumference of the lake, in varying terrain, making it ripe for multiple excursions on return trips.
---
Approximate Location of TrailPhoto above, on Oursan Trail:
-
---
A Few More Photo Samples from this Trail: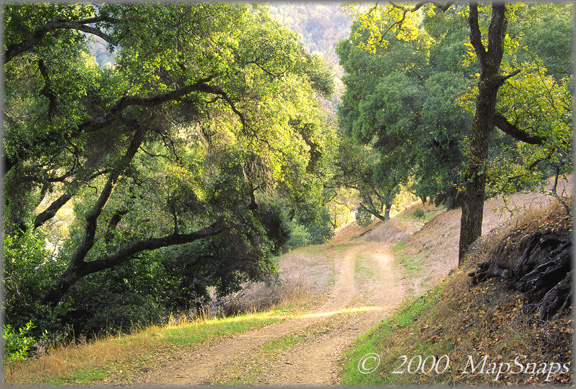 Wooded paths above the reservoir provide variety along with the waterfront trail
.
.
Brilliant sunset clouds above the hills near the end of this TrailPhoto Guide trip
.
To preview or acquire this TrailPhoto Guide, complete with all the color photos and their mapped locations, area and topo maps, directions, and the trail guide text, please visit Scribd.com. (This TrailPhoto Guide is now available at the Scribd website to preview, or acquire for $1.50).
Or, view a free, complete TrailPhoto Guide Sample at Scribd.com first. This sample includes a TrailPhoto Guide to the Eagle Lake Trail in the Lake Tahoe Region (Other TrailPhoto Guides are also available with free preview pages and for purchase from MapSnaps at Scribd.com).
---
Back to East Bay TrailPhoto Guides Thumbnail Photo List and Map
---

TrailPhotos Index Site Map for all TrailPhotos areas and maps.
---
Home | What's New | FAQ | User Notes | About Us/Contact
© 2000-2010 MapSnaps All rights reserved