East Bay TrailPhoto Guides - BBQ Terrace Road Trail
---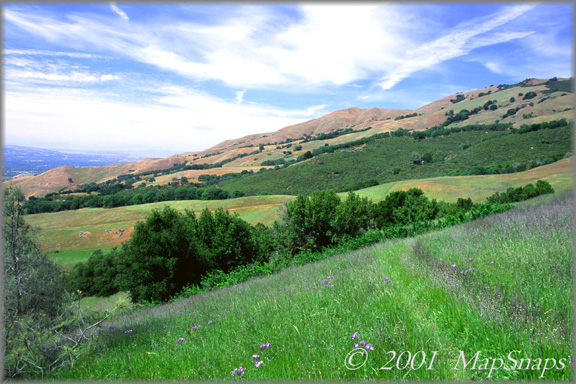 Nearing the upper reaches of BBQ Trail, Mt. Diablo foothills show late Spring color
Mt. Diablo State Park
(Also see this photo at: Flickr)
---
* BBQ Terrace Road Trail. This TrailPhoto Guide is now available
* Roundtrip trail distance = 7.8 miles. Difficulty = Moderate. Scenic value = 8 / 10.
* Guide contains 10 color photos, plus maps. Acquire this Guide at Scribd.com.
---
The BBQ Terrace trail takes you through tree-lined, shaded streamside trails, and over the open rolling hills dotted with large oak trees that so typically characterize central Contra Costa County parklands and Mt. Diablo State Park. Much of the trail weaves along via level to moderate slopes, until the final climb over grassy hillsides up the slopes of Mt. Diablo - which is steep, but a small portion of the overall trail. From the final ascent, extensive views of the valleys and towns spreading out around Mt. Diablo expand as you climb. This trip offers more solitude than many portions of the park that originate from more heavily used entrances, and for a fair portion, includes the quiet calm of a riparian path.
---
Approximate Location of TrailPhoto above, on BBQ Terrace Trail:
-
---
A Few More Photo Samples from this Trail: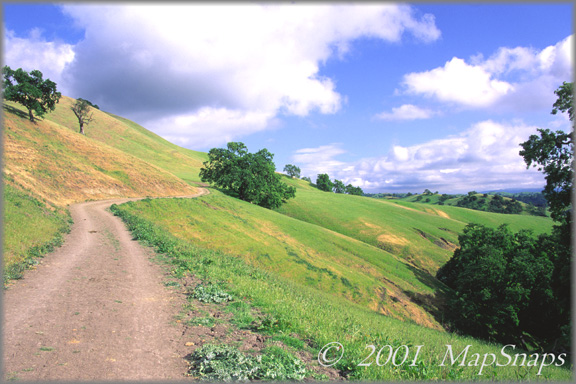 The trail begins across wide ranges of rolling hillsides, gradually easing upwards
.
.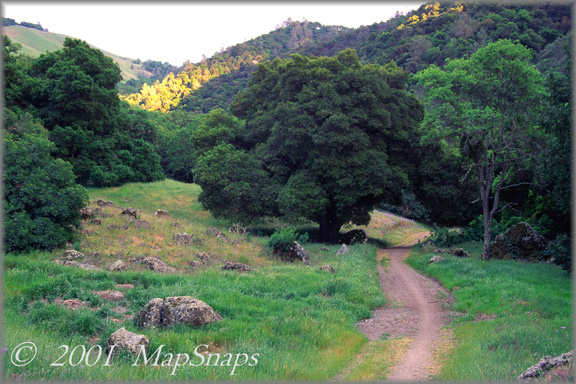 Mt. Diablo contains many thick forest passages along with its vast open hillsides
.
To preview or acquire this TrailPhoto Guide, complete with all the color photos and their mapped locations, area and topo maps, directions, and the trail guide text, please visit Scribd.com. (This TrailPhoto Guide is now available at the Scribd website to preview, or acquire for $1.50).
Or, view a free, complete TrailPhoto Guide Sample at Scribd.com first. This sample includes a TrailPhoto Guide to the Eagle Lake Trail in the Lake Tahoe Region (Other TrailPhoto Guides are also available with free preview pages and for purchase from MapSnaps at Scribd.com).
---
Back to East Bay TrailPhoto Guides Thumbnail Photo List and Map
---

TrailPhotos Index Site Map for all TrailPhotos areas and maps.
---
Home | What's New | FAQ | User Notes | About Us/Contact
© 2000-2010 MapSnaps All rights reserved