Hwy. 88 to N. Yosemite TrailPhoto Guides - PCT South to Leavitt Lake
---
Pacific Crest Trail S. from Highway 108 is high, stark terrain: more rock than forest
Toiyabe National Forest / Emigrant Wilderness (Off Highway 108 Area)
(Also see this photo at: Flickr)
---
* Pacific Crest Trail South to Leavitt Lake. This TrailPhoto Guide is now available
* Roundtrip trail distance = 8.5 miles. Difficulty = Strenuous. Scenic value = 9 / 10.
* Guide contains 11 color photos, plus maps. Acquire this Guide at Scribd.com.
---
The top of CA Highway 108 at Sonora Pass brings you into a somewhat barren but fascinating world of time worn peaks and spires, with weather-toughened trees and brush remaining sparse, and fighting to hang on. Your path heading south on the Pacific Crest Trail starts high at over 9,000 feet in elevation, and climbs even higher. With the thinning of the forest at such elevations comes long uninterrupted views of jagged peaks and sawbit ridgelines, the very sights that make high elevation trails so enticing. The trail reaches a long level stretch after the climb, with a destination overlook skirting a steep decline to a lake filled valley - a view earned without need of a final leg down, and a climb back up avoided if you're feeling worn out.
---
Approximate Location of TrailPhoto above, on PCT S. of Hwy. 108:
-
---
A Few More Photo Samples from this Trail: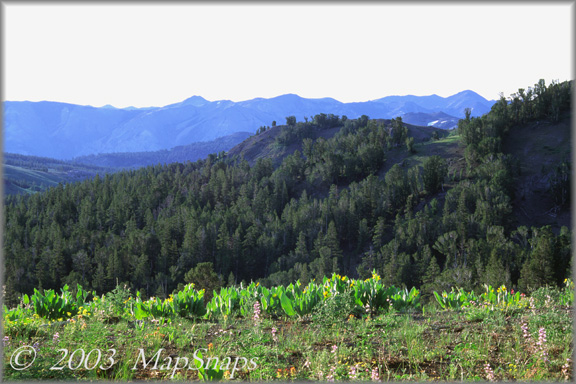 Much of the trail is stark and rocky, but some corners are green and forested
.
.
Up above it all, the trail looks down upon Highway 108 arcing through scoured cliffs
.
To preview or acquire this TrailPhoto Guide, complete with all the color photos and their mapped locations, area and topo maps, directions, and the trail guide text, please visit Scribd.com. (This TrailPhoto Guide is now available at the Scribd website to preview, or acquire for $1.50).
Or, view a free, complete TrailPhoto Guide Sample at Scribd.com first. This sample includes a TrailPhoto Guide to the Eagle Lake Trail in the Lake Tahoe Region (Other TrailPhoto Guides are also available with free preview pages and for purchase from MapSnaps at Scribd.com).
---
Back to Highway 88 to Yosemite TrailPhoto Guides Thumbnail Photo List and Map
---

TrailPhotos Index Site Map for all TrailPhotos areas and maps.
---
Home | What's New | FAQ | User Notes | About Us/Contact
© 2000-2010 MapSnaps All rights reserved