Hwy. 88 to N. Yosemite TrailPhoto Guides - Caples Lake to Emigrant Lake Trail
---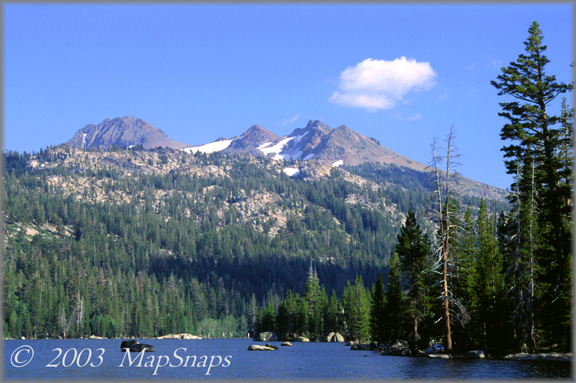 Caples Lake, a majestic setting along Highway 88, from the trail to Emigrant Lake
Eldorado National Forest (Off Highway 88 Area)
(Also see this photo at: Flickr)
---
* Caples Lake to Emigrant Lake. This TrailPhoto Guide is now available
* Roundtrip trail distance = 7.8 miles. Difficulty = Moderate. Scenic value = 9 / 10.
* Guide contains 9 color photos, plus maps. Acquire this Guide at Scribd.com.
---
Caples Lake is one of the more attractive alpine lakes accessible right along the roadside on the western Sierra mountain passes of northern California, in this case along CA Highway 88. Although created by a dam on the west end of the lake, the setting appears as a pristine mountain lake as you view the mountains towering over the southeast end of the lake from the road and trail. Following the lake's level shoreline for a few miles, the trail is easy until you reach the far southern edge of the lakeside for a climb up to the more remote Emigrant Lake in the forests and granite ridges above Caples Lake.
---
Approximate Location of TrailPhoto above, at Caples Lake off Hwy 88:
-
---
A Few More Photo Samples from this Trail: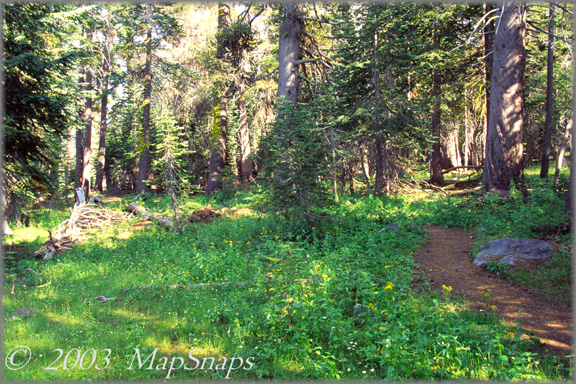 Shady wooded paths line various sections of the shoreline along Caples Lake
..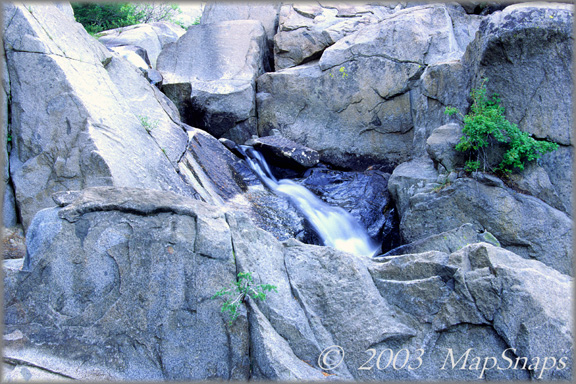 A sneaky little waterfall slips from a forest bed through a rock gap, then vanishes
.
To preview or acquire this TrailPhoto Guide, complete with all the color photos and their mapped locations, area and topo maps, directions, and the trail guide text, please visit Scribd.com. (This TrailPhoto Guide is now available at the Scribd website to preview, or acquire for $1.50).
Or, view a free, complete TrailPhoto Guide Sample at Scribd.com first. This sample includes a TrailPhoto Guide to the Eagle Lake Trail in the Lake Tahoe Region (Other TrailPhoto Guides are also available with free preview pages and for purchase from MapSnaps at Scribd.com).
---
Back to Highway 88 to Yosemite TrailPhoto Guides Thumbnail Photo List and Map
---

TrailPhotos Index Site Map for all TrailPhotos areas and maps.
---
Home | What's New | FAQ | User Notes | About Us/Contact
© 2000-2010 MapSnaps All rights reserved